Yes, that's right. We call them "monickers", not nicknames. That's the word you use when you want to describe the other name that you call your idols, your role models, your heroes. It's just...cooler.

And that's the word that Jumpin' Joe Cantanda used back in the day when everyone, and I mean everyone, watched the PBA. This was the time of Alvin Patrimonio, Venancio "Benjie" Paras, Avelino "Samboy" Lim, Paul Alvarez, Isabelo "Jojo" Lastimosa, and many more. For me, these players were the last of the Mohicans. I felt that the game was at its purest when they were around. They were the last of the true Filipino basketball player. They inspired us, electrified us, and showed us what it was like to be a TRUE champion...by playing with all your heart.

So without further ado, I present a list of these awe-inspiring athletes and their cool monickers.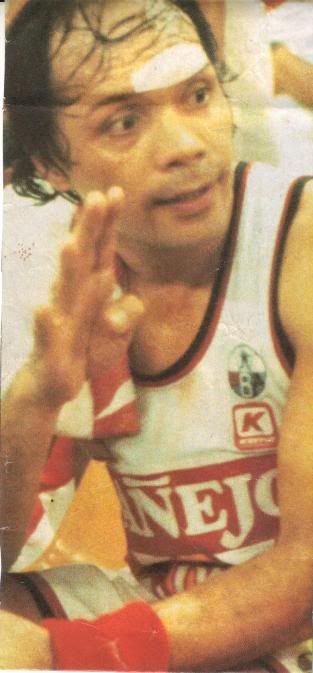 1. Robert "Sonny" Jaworski - The Big J, The Living Legend, The Barreling Big J

2. Ramon Fernandez - The Franchise, El Presidente, Don Ramon Fernandez

3. Allan Caidic - The Triggerman

4. Ricardo "Ricky" Brown - The Quick Brown Fox

5. Willie Generalao - The Court General

6. Hector Calma - The Director, The Penetrator, The Liquidator

7. Ato Agustin - The Atom Bomb

8. Chito Loyzaga - Dynamite

9. Padim Israel - The Defensive Specialist

10. Elpidio "Yoyoy" Villamin - The Bicolano Superman

11. Yoyoy Villamin with Ricky Relosa - The Bruise Brothers

12. Rudy Distrito - The Destroyer

13. Nelson Asaytono - The Bull

14. Paul "Bong" Alvarez - Mr. Excitement

15. Venancio "Benjie" Paras - The Tower of Power

16. Marte Saldana - The Mighty Mite

17. Dindo Pumaren - The Bullet

18. Alvin Teng - Robocop

19. Abe King - The Chairman of the Boards

20. Bobby Jose - The Firecracker

21. Avelino "Samboy" Lim - The Skywalker, The Dragon

22. Jack Tanuan - Black Jack, Jack the Ripper

23. Noli Locsin - The Tank

24. Willie Pearson - The Wingman

25. Fortunato "Atoy" Co - The Fortune Cookie

26. Vic Sanchez - Rambo